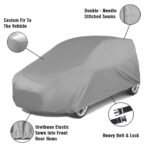 Hyundai New Creta 2021 / 2022 Car Body Cover | 100% Waterproof Car Cover for Hyundai Creta
Hyundai New Creta 2021 / 2022 Car Body Cover | 100% Waterproof Car Cover for Hyundai Creta
(Inc GST)
(Inc GST)
✅ Best Selling Product ⭐⭐⭐⭐⭐
✅ WaterProof
✅ Premium Quality
✅ Make In India
✅ Free Shipping + Fast Delivery
✅ SSL Secured Payment Modes:
✅ PayTm / Debit Card / Credit Card / Google Pay / UPI / Amazon Pay UPI / COD Available
Hyundai Creta Car Body Cover keeps Car Interior Cooler & Not Affected by Temperature Extremes. ✅
Heavy Quality Full-Size Car Body Cover Make in India Product Designed To Protect Vehicle Against Harsh Outdoor Conditions. ✅
Hyundai Creta 2020 car cover covers Full Car Bumper | Equipped with an Elastic Bottom and a buckle to secure the cover for an optimized fit. ✅
Heavy Quality with Premium Fabric keeps Dust Protect + Water Resistance + Custom Fit + Protect Paint from SUN Damage + Bird's Ding + Scratches and etc. ✅
Abrasion-Resistant Material – Durable Against Wear and Tear in the Long Run + High-Performance Fabric Naturally Resists Moisture, Fungus, and Expels Stale Odor. ✅
Description
Additional information
Reviews (2)
Description
Buy Online AutoFirm Heavy Duty Hyundai Creta Car Wheeler body cover.
Strong, effective, all-weather Body Cover for Hyundai New Creta Car.
This custom-fit Four Wheeler Body Cover is very tough and long-lasting whilst being water and dust resistant.
The cover is designed to protect your vehicle against harsh outdoor conditions.
Our special Hyundai Creta 2020 Car Covers preserve the vehicle's paint and safeguard it from dings, scratch, water, and dust.
The Body cover fits your vehicle with style and precision. Features: high-quality fabric, water-resistant, dust resistant, UV rays protection (UV rays cause paint fading).
Lightweight for ease of use and easily handled.
Matches the Four Wheeler car body profile seamlessly.
Silver / Grey color cover with front and rear holding elastics and center belt for proper and perfect fitting.
AutoFirm makes premium and top-notch auto adornments including vehicle body spreads like Car Body Cover and Bike Body Cover with similarly great foundation guaranteeing top of the line generation of auto frill and items, AutoFirm has been keeping up worldwide gauges and getting acknowledgment and love from quality cognizant customers the nation over.
Tags: Creta Cover, Creta Car Cover, Creta Car Body Cover, Car Cover For Creta, Car Body Cover For Creta, Hyundai Creta Cover, Hyundai Creta 2020 Car Cover, Hyundai Creta 2020 Car Body Cover, Car Cover For Hyundai Creta 2020, Car Body Cover For Hyundai Creta 2020.